In many ways JK Rowling is a coach. Her incredibly memorable stories have encouraged and coached generations of children to love reading. There was so much joy in our family when one of the Harry Potter books came out. We looked forward to curling up together with me reading to the kids. JK continues to inspire and her commencement speech at Harvard in June 2008 was turned into a small and beautifully illustrated book. All proceeds from the book sale go to her child centred foundation called Lumos.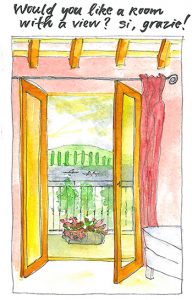 One of the best coaches I ever had was Roger, who said that prosecco was an acceptable part of my training program. At the time I was preparing for a seven-day rowing tour in northern Italy, along the shores of Lago Maggiore. In order to row an average of 30 kms per day, I would need to stay hydrated and with prosecco on tap everywhere, it made sense to add it to the training program. J
Isabelle Mercier-Turcotte of LeapZone Strategies is my newest coach. I'm doing the Build to Rock program and in her mastermind group. So fun and challenging! One of my favourite pieces of advice from her came at a conference a few years ago. Always wear your lucky underpants. This is about having rituals – daily, weekly, monthly, yearly. It's about staying your best, every day, and why not – sure beats the alternative! 
Has a coach shared some life changing advice to you? I'd love to know what tips (and tricks) you learned. The definition of a coach can be pretty broad too, and in my world, can include best friends. I am so grateful to the group of intertidal women who coached me a few years ago to take a sabbatical from my landscape architectural career. At that point I wasn't ready to walk away from a rewarding and successful practise, in order to dive into a brand new business. The concept of 'sabbatical' is fantastic – it gives you time to breathe and think. It gave me time to decide that creating Visual Life Stories was where my heart and mind was leading me. I'm 'all in' now with both feet.
Okay I realize this post has a ton of links but, there is so much to share. One more thing. If you are a women and part of the military family here in Victoria, check out Pacific Women's Day on Saturday, November 24th. Information and registration details are here. I'm doing a workshop on travel journaling – helping military families stay connected while family is away and collecting the memories of places they have been. One last link, to my "in my studio" workshops coming up in the New Year. Be wonderful to have you around my table. Thanks for following along and sharing this with anyone you know who loves storytelling.