Isabelle Mercier-Turcotte had a fantastic presence on stage at SOHO Victoria last Friday. She rocked the house with her message to "Live Out Loud By Design Not Default". Sharing real life principles that as she says are "Small pivotal shifts that leads to Massive Results". I am looking forward to getting to know her company Leap Zone Strategies.

And I mean come on, who can't smile at the idea that wearing your lucky underpants can help you make big change. It's all in the Rituals.

I'm embracing Isabelle's tip to create and reinforce daily, weekly and monthly rituals. I started putting these into practise first thing Monday morning. Sure I have a few rituals and some work well for me and some don't. Remember my blog post about email addiction? So it's time to reset. At the beginning of the new year I set some goals which included not checking email in the first hour  but unfortunately I was not disciplined enough (another key message from Isabelle), but January's gone now so why not start anew.

I've added learning reading to my "start the day" ritual which is enjoying a peaceful cup of tea before checking my phone and email. I'm taking charge of my day instead of the other way around.

Last Friday, I sat at SOHO Victoria with a large sketchpad on my lap and pens uncapped in hand, ready for the wisdom to pour forth. I was not disappointed. This was the second year for this one day conference here in Victoria and it is definitely on my annual calendar.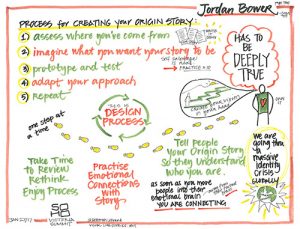 If you are in Nanaimo this coming Friday, February 3rd you can check out the inaugural SOHO Nanaimo event. The list of speakers is fantastic and includes Jordan Bower.

I've done some work with Jordan this past year helping him create his own visual graphics for his website and workshops. It was fun to see him in action on the stage. He had a lot to share which filled two pages. Here's the introduction page inviting you to capitalize on your authentic story. Then he shares the action steps to create your origin story.

Sketchnotes are a great way to capture a message without a lot of setup and cost. Have me sit in on your presentation or listen to your podcast or video. I will create a visual note that can be shared with your clients, friends, or whoever you think will benefit from the message you want to share.

If you want the graphic to be a bit more spiffy than this initial rough capture style, I can polish it up creating something that becomes a part of your own visual vocabulary. Let me know if this is something you think will help get your story out there. Your origin story perhaps.  

While you're at it tell me, are you wearing your lucky underpants? What's something in your daily ritual that is really working for you?