Have you ever tasted Prosecco?  It's light and sparkling, a fantastic refresher for your taste buds and spirit. And when shared with others it brings a round of smiles. Perfecto.
On a rowing tour in Italy one of my travel goals was to have a glass of Prosecco a day. It was part of my training program (as endorsed by coach Roger – clever man).
The sizes and shapes of glasses were fun to experience.  The Italians are definitely not particular about the vessel into which this delightful drink is served. Bring on the goblets!
Do you have some passion that you look for when you're travelling or in your daily life?  Maybe it's something that you collect. Or perhaps it's specific experiences.
A guy I know loves to leap from tall places and see how much air he can get between him and the ground. Bungee jumping, check.  Sky diving, check. Extreme zip lines, check. As a passionate memory collector and graphic journalist, I think how cool it would be for him to have a record of these experiences to share with his grandkids (one day).
Earlier this year I met a few people who were on a quest to go to as many places as possible where Emily Carr had travelled and painted. This included going to London, England to a major exhibition.  Their interest guided them on their exploration. And they saw so much more than paintings.
That is the heart of what is so great about having things that spark your curiosity, your taste buds, and your enthusiasm. These interests speak to who you are.  Why not celebrate them and collect those memories together?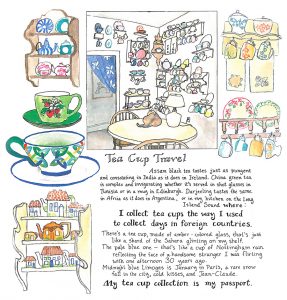 Vivien Swift is passionate about teacups amongst many other things. I love this image of her kitchen with cups everywhere.  Collected from her travels, each cup holds a story.  What a great way to remember those fragments of life, those sometimes precious experiences that we wish would never end.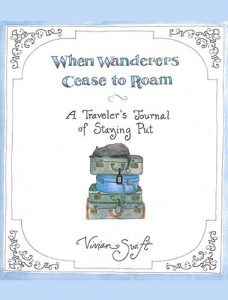 Clearly a gypsy at some point in her life, Vivian created this wonderful book to celebrate her sanctuary, her home and community, the place she landed when the wandering spirit settled.   Full of gorgeous watercolours and funny stories, this book is a treat.  I was so pleased to find it in Strand bookstore, a place highly recommended to visit whenever in New York City.  If you love books (a passion perhaps), you must go there sometime.  It's magical.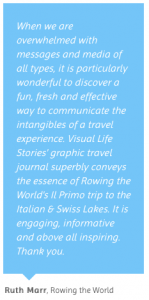 Testimonial:
"When we are overwhelmed with message and media of all types, it is particularly wonderful to discover a fun, fresh and effective way to communicate the intangibles of a travel experience" -Ruth Marr
With my rowing life expanding, I have found a world of places to travel to where I can row.  The image at the top is from the visual travel story created for the FISA World Rowing Tour recently held on beautiful Lago Maggiore in Northern Italy. I'm still deciding where to go next.
What about you?  Do you have an interest or passion that you want to celebrate?  Do you want to capture a collection of experiences or personal treasures?  I'd love to help you create a visual record that reflects you. Let's talk. My glass is ready to be filled.