Okay to be honest, this is a tough topic. The thing is that we are all going to lose someone we love – including ourselves. That is a very sad reality. It made me think – how do you be unforgettable when the inevitable happens?
I know I want my Celebration of Life to be just that, a celebration! Wouldn't you want that too? Sharing my story, my life journey will be a key part of that celebration. An obituary will be written and shared in the newspaper and on-line.
For many families the crafting of an obituary is done from the heart, capturing the essence of a person's life. Here at Visual Life Stories, we are passionate about helping people collect memories and have created a new offering called the Obit-Book.
Obit-Books start with a 'heart crafted' obituary which is then combined with a selection of photographs. By re-purposing the obituary we create an affordable and memorable keepsake with minimal effort. These accordion fold booklets are a visual trip down memory lane and easily shared at a Celebration of Life or funeral. They are also a convenient size for mailing to people unable to attend.
You can find more information about Obit-Books on our website. One thing to note – we need typically need two weeks for the production and printing process. Also the digital file can be sent to a printer in any city.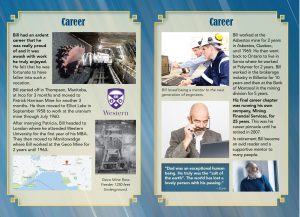 We were talking in the studio about the exercise of writing our own obituary. Someone I know had done this with her group of friends and said it was quite liberating and very fun. I've decided that I want this photo on the cover of my Obit-Book.
Speaking of photos, when people are preparing to hold a celebration of life they are often looking through old photo albums trying to find the right images to share. This can be a daunting task. Not to mention how do we move these paper treasures into the digital age? Enter Photo Hero and their great scan van that gets set up in your driveway. I've mentioned these guys before. Definitely helpful and worth checking out.
Collecting memories is our passion and we have many ways of helping you tell your story, or capture the story of someone you love. Send me a note and let's set up a time to talk.