My Dad grew up in rural Nova Scotia, a place that forever stays in his heart and soul. Like my grandfather, Dad's love of storytelling and song is legendary. With a booming voice he loves to sing and combines that skill with a bit of kitchen party theatre. It was easy to gather a list of his favourite songs. Do you know your dad's favourite songs and stories?
Storytelling has a strong tradition in eastern Canada. Wish I could drop in on events highlighted by Storytelling Nova Scotia. Now, I love how the internet leads you from one thing to another. On the Storytellers of Canada website there is a list of resources and a link to local groups across the country. I found the Victoria Storytelling Guild and another group in Halifax called What the Folk.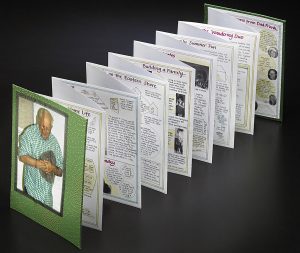 Dad's story was the first Visual Life Story I ever created. He's always telling stories and I realized that if they didn't get collected, they'd be lost forever. In gathering his memories, I learned that one of my favourite skits that Dad performs was partially written by my grandfather.
If you've ever seen him do his Tony Perroni, Son of the Beach story, you will never forget it. The photo on the front cover of the book shows him in character though you can't see an important part of the costume where his shirt (or shorts) are sticking out of his open fly – hilarious! Old Tony Perroni is a poor son of the beach!
Every summer growing up, the whole family would pile into our Ford station wagon for our annual holiday from Southern Ontario to the Eastern Shore of Nova Scotia – a place that is forever in my heart and soul. Somehow my parents were able to pack the seven of us in with all our camping gear. I have such vivid memories of lying in sleeping bags in the back of the station wagon (of course there were no seat belts), as we headed off on our adventure.
Are you ready for the adventure of collecting memories? I'd be honored to be your guide on your Immortality Quest. We will Unearth, Distill, Visualize and Immortalize your life or the life of someone you love. Let me know when you want to get started.
If you've enjoyed reading this, I would be so grateful if you shared it with a friend. Thank you!