I sometimes find it hard at the end of summer to adjust to the change of seasons. One way of diverting my focus from the approaching cold season is to think about spring and dream up ideas of travel for the coming year.
Yellow Point Lodge is a special place I've mentioned and visited it on a regular basis since 1985. The lodge has both comfortable and rustic accommodation set on a gorgeous 185 acre waterfront property. All meals are communal and included in the reasonable cost. Sounds perfect don't you think?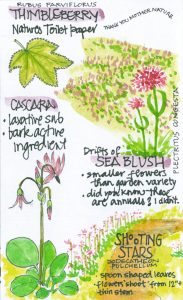 The above map is in the guest brochure and shows the clusters of cabins, the main lodge as well as the extensive shoreline. As you can imagine there is an abundance of birds and native plants in the forest, as well as rich intertidal and wild life in the ocean. All that to say – there is much to explore.
I'm very excited to be part of the faculty in April 2019 for a 5 day course called Nature Explorations at Yellow Point Lodge. It's through the University of Victoria and includes an enthusiastic group of educators. I will be hosting sessions to inspire people to explore nature journaling. Don't delay to register, this course will sell out and last year had 20 people on the waitlist.
John Muir Laws is a nature journaling inspiration and I have mentioned his book before. He has a you-tube channel and I highly recommend checking it out. He is an amazing teacher and resource. I hope to channel his spirit next spring.
My upcoming Map a Memory workshop (childhood neighborhood) is now full. I will offer this same workshop one more time this year in the month of November. Details are here.
In the New Year I will move onto the next area of focus, mapping your journey after leaving your childhood home. Send me a note if you want more information on this next chapter of creating your life map.\
Here at Visual Life Stories, we are passionate about helping you become unforgettable. Leave a legacy of story. Future generations will be grateful that you did.