Collecting memories over the years I have found the question "how did you meet your true love" always evokes precious stories. I've also noticed that when we meet a couple we admire, a favourite question is 'how did you two meet'? Why not take that question home and ask your parents how they met? This can be a fun and surprising answer.
For my parents, the story is that my Dad as a policeman came into the office where my Mom was working as a secretary. He was looking to give someone a parking ticket. Things seem to have worked out differently and I'm pretty sure the ticket book was kept closed.
An answer I heard recently when asking the same question was "I've always known him." This couple grew up on opposite sides of a valley in northern Italy. Imagine, they were acquaintances as children who eventually became life partners moving from Italy to England and eventually immigrating to Canada.
Check out this previous blog post for another story about relationship memories.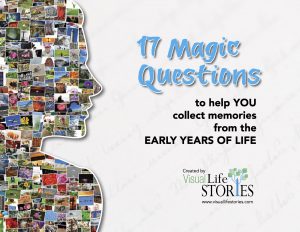 As a memory collector, another favourite question is, 'describe your neighbourhood where you grew up'. I created the map above and had fun sharing it with my siblings as we all have different stories that played out for each of us in the 'hood'. Including the infamous "how far we had to walk to school in the snow".
Creating a map of your early childhood neighbourhood is one of the projects we do in my Map A Memory workshops. You can check out details here along with workshop dates for the fall.
Here at Visual Life Stories, we are passionate about collecting memories and have a large quantity of favourite questions. You can access a selection with our free Magic Questions download. There are two versions available for you – questions from the early years of life and your young adult years. Download them and have fun taking a trip down the memory river.
Need some help navigating the river? Send me a note and let's connect. I hope you're having some relaxing time as the weather warms.