The story of meeting your true love, your first real love, your wife, your husband, your partner in crime and life… now that's a story to share. We are happy to share these cherished memories. And who hasn't been asked, how did you meet?
Sometimes in the telling of your story, the story of a loved one's own journey gets woven in. This story could have turned out so differently and tragically. Stories of immigration and war always carry the cloud of stress. World events can influence what we experience. When details are included in a visual life story, it adds geographical, political and chronological markers.
If they hadn't escaped, these lovers wouldn't have met and their beautiful girls wouldn't have been born. This life story would have been very different. That is life. The paths we choose, the place we are born, the things we say yes to, the things we say no to, they all make an impact on our story.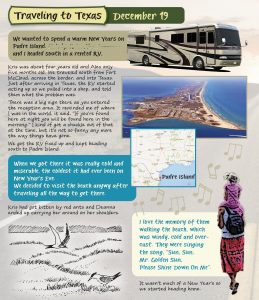 Is there a memory from a place you've travelled that you easily recall and reflect on? Grab a pen and start writing. Where was it? Was anyone else there? Describe the image in point form. Was something in particular said? Okay, there you go, you've started creating a visual story. Find a map to locate the place. If it's an older memory, see if you can find an older map. Check out this cool online resource for old maps.
If you don't have a picture for your memory you can always look for something online. Of course it's important to be aware of image copyright. One of our local Social Media Experts Juhli Selby posted this helpful article with websites for free and affordable images along with a link explaining how to know if you are legally using online images.
One of my favourite free photo sites is Pexels. Check it out. At the top of the page you enter what image you're looking for, then the images appear. Click on the one you like and you'll see the license details on the right. You're looking for "CCO License" (Creative Commons Zero) or "Public Domain" images. Next click the dropdown beside the "Free Download" button, choose the size you want and click download.
Need help to pull your story together? I can do that. Creating visual stories is a bit of an obsession. I'd love it if you helped feed my addiction. And don't forget to get our free download of 17 magic questions to start you collecting memories.
Hope you enjoyed this story. Please subscribe if you want to receive my visual newsletter every three weeks.