It's very powerful reading your own story, written in your own voice. Maybe you're wondering…is that easy to do? Well yes actually it is easy to transcribe your story. When you record a story, you create an audio file, which can easily be transcribed into a word document.
Once you have the word or text document on your computer, you can edit out the bits where you are trying to remember a detail or are saying the inevitable 'ummm'. You can tighten up the story and create what I like to call, "story nuggets".
When our client Bill shared his story of growing up in rural PEI, I could hear the emotion in his voice as he described being the little kid at the end of the bed. That was just the way it was. You can see this whole story page here.
This sketch is a fine example of the artistic skills of Briony Penn. There wasn't a photo to match Bill's story so she created this gem to illustrate and draw readers in. Briony is an accomplished writer who loves her creative penn's and we are fortunate to have her on the Visual Life Story team. I seem to love my puns ☺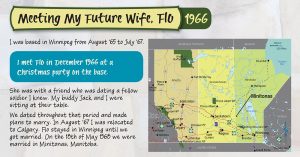 For a number of years, we have used and recommended a transcription service called Speechpad. They've done great work for us. I was doing a little research this week and found another company called GoTranscript that looks like they also provide excellent service. They look a little less expensive too. Both of these companies use real transcribers which means that it's not a computer algorithm turning your voice into text. This definitely translates into fewer mistakes.
Love is the air this February week, reminding me of another cherished memory from Bill, the story of meeting his wife. Do you have a love story that you want to remember? Maybe you have a significant anniversary coming up. Let's chat about how we can help you celebrate your love.
If you are thinking about how to get started collecting your memories or the memories of a loved one, download our magic questions. There are a few fun questions and some tips for memory collecting.
Thanks so much for following along. If you enjoyed this visual newsletter please share with your friends. If this was shared with you and you like what you see, please subscribe here. A visual story will land in your email box every couple of weeks.
Have a wonderful week and keep on making those great memories while you have this gift called life!