When someone you love is 'getting on in age', looking for a unforgettable gift can be challenging. Why not give them a gift that is meaningful for both of you instead of another scarf or box of chocolates?
Kimiko had a strong desire for many years to collect her grandpa's stories and memories. After seeing some of our Visual Life Stories, she realized that this was the opportunity she had been looking for. Two years ago we created a beautiful gift certificate in an accordion book format. She presented it to her 'Bapa' on Christmas morning and he was intrigued.
Over the next few months, together they took a journey along the memory river. I was their navigator. Kimiko interviewed her grandfather both in person and by telephone collecting stories and memories that were important to both of them. Their already strong relationship deepened.
She wrote up the story and we provided editing services. Back in the studio, we took her shoebox of photos and combined it with researched images to create a beautiful testament to a life well lived. A full life that had its challenges and joys.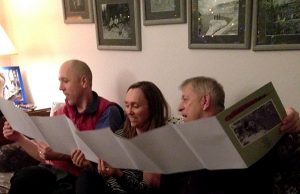 Last December the completed ten page accordion booklet was presented on Christmas morning. Bapa was thrilled, and emotional seeing his life story laid out before him. Kimiko had copies made for her parents and siblings. It made for an incredibly special Christmas and the whole family benefited from her unforgettable gift. It's a gift that keeps on giving.
I met Kimiko through her fantastic skin care company, Miiko Skinco. The products are all natural using plant based materials. I've been a big fan for a number of years and know that my skin is so much happier with her products. Check out her website with some holiday discounts on now.
Giving the gift of a visual life story is an opportunity to strengthen important relationships leaving both you and the storyteller feeling unforgettable. Send me a note and let's set up a time to talk about the right type of gift for your dear one. We've done books from 10 pages to 148 pages and everything in between. I'd love to help you create a legacy story for now and future generations.