Are you able to navigate using a printed map? People rely on digital maps and gps devices so much that sometimes I feel like a rare species. I still pull out a map to help me get the big picture. Sure I use digital maps too but navigating well means you need a few strategies.
According to this researched article, the hippocampus of the brain is known as the 'map reader' of the brain helping us know where we are, how we got there and how to navigate to our next destination. With the growing use of digital navigation, this area of the brain is being under-utilized leading to a higher risk for cognitive disease specifically related to spatial orientation and memory. So if you want another exercise to work your brain, put down the Sudoku, get out a map and go find your way somewhere. Do it frequently and enjoy the adventure. The image above is from the back cover of a book we recently printed about the life of a very adventurous guy.
When I take people on a journey down their memory river, it is essential to use a variety of navigational strategies. The first key strategy for collecting memories is getting a big picture overview of their story – like unfolding the big map. Once I have a sense of the general direction, we dig into the details.
Another strategy is to listen for the stories that are mentioned in passing, or maybe down played a bit. People ask where you grew up, a geographic type of question. When I navigate people down their memory river, I want the details. When was the last time someone asked you to describe the first house you lived in?
If this particular question interests you, check out my next workshop starting November 8 for 4 weeks. Together we will draw out and explore your childhood neighbourhood including the house you lived in. It's a small group class and I only have room for two more people. Check out the details here. By the way, this is the last time I will offer this particular class for at least a year. I am moving onto help people collect stories from other periods in their life.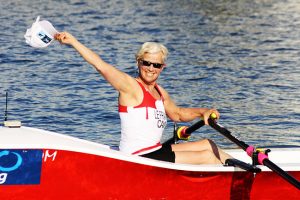 Little update – I mentioned in a previous post about my upcoming races at the World Championships for Coastal Rowing. Strong navigation skills are important as these races negotiate a number of marked buoys. It was an incredible rush to line up against world class crews from across the planet. As the oldest competitor in the single women's category, I was super pleased with my results coming in 4th in the B Final. I also raced in a coxed quad and this photo is after that final race where we came 5th in the B Final. I will definitely be creating a visual story about my experiences at this amazing event.
Do you need someone with strong navigation skills to help 'float your boat' down the memory river? I'd love to apply for the job! People often ask me to help them collect the stories of someone they love, someone they may find challenging to ask the detailed questions. Send me a note if you want to talk about how to collect these sometimes hidden stories. Navigating the memory river can be tricky, an experienced guide is essential.