Have you had an amazing experience or journey and thought, "This has been incredible, and I don't want to forget it." Visual storytelling helps make those memories unforgettable.
Let's face it, life is often moving pretty fast and yet there are periods of time that are so acute and experientially full. These can be times when you've:
Given focused attention to a goal
Taken a project from idea to reality
Gathered together with family at a special place
Travelled somewhere that you've dreamed of
Been on a health journey that challenges you to the core
Celebrated a milestone that has been exciting and challenging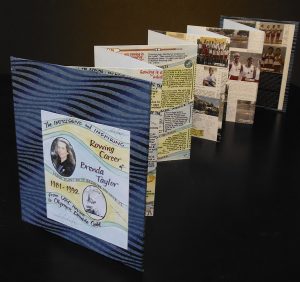 Brenda Taylor had a goal to go to the Olympics. That goal didn't start the first day she sat in a rowing scull but it developed pretty quickly. Going from novice rower to double gold medal Olympian and then into the Canadian Sports Hall of Fame – this journey was worth remembering and sharing. It truly was an unforgettable experience.
Starting with notes from an interview, our visual storytelling used her training journal and photos to create an accordion booklet that charts her course. It was anything but a straight line with challenges and rewards along the way.
Have you heard of ikigai? It is a Japanese concept that is essentially a formula for finding happiness and meaning in your life – this can also be translated into finding your purpose.
One thing that has been clear when helping people create a visual story about a defined focus is that they are very clear about their ikigai. This article is a great explanation and incorporates a helpful graphic.
I am looking forward to talking to a friend soon who wants to record her milestone birthday year. It sounds like it's been a roller coaster ride of big highs and significant lows, a year so full of experience that she doesn't want to forget it.
At Visual Life Stories we are passionate about visual storytelling and feel very connected to our ikigai. Have you had an unforgettable experience or journey that you want to remember and share. Send me a note and let's talk about it. I'd love to hear your story.