"There are places I remember, all my life though some have changed." This Beatles song really hits the mark because we all carry places and landscapes in our memory bank. Preserving memories like these are my passion. For some people memories of place help them get grounded when feeling unrest, for others the remembering of a place can be painful. For many people places from childhood will evoke a sense of nostalgia – memories of simpler times. These can be cherished feelings to relive and share. I love the
Ed Sheeran version
of this song.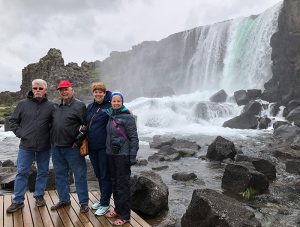 I recently had a very memorable journey to Iceland along with one of my brothers and sister. We took our 85-year-old father on a journey he had dreamed of taking. If you've been to Iceland you will know it is a place of contrasts. On one hand the landscape looks prehistoric and timeless. But it is also very dynamic with active volcanoes and steaming vents on sides of mountains. The stories of Iceland are told as sagas. A recent CBC podcast called
A Map of the Heart
– featured a discussion about them. One of the people interviewed talked about how "people write their stories into the landscape around them creating a strong bond with the physical landscape". Certainly in my previous career as a
landscape architect
, I would help people create the story of their land, reinforcing and creating a bond with their landscape. Now I think part of the reason Icelanders feel this way about their landscape is that their language is pretty challenging to decipher. This photo was taken in Pingvellir National Park located in Bláskógabyggõ. It was fun being the 'nagivator' on this trip sitting behind my driving brother, trying to find our way while reading signs that were posted 10' before the turn off (with names that were at least 15 characters long)! By the way,
Pingvellir
is the site of the first national parliament in Iceland, held in the year 930 – that's 1,088 years ago! It is also a place where the North American and Eurasion plates can be clearly seen creating a gorgeous rift valley. Taking the trip with my dad and siblings was a journey to remember. Do you know someone who has a dream journey on their mind? Are you able to help them make it happen? I'm looking forward to preserving memories of our adventure by creating a visual story so that the dream holiday lives on. Have a wonderful summer and if you need help remembering landscapes from childhood or places travelled,
please send me a note
and we can work together to create a visual story that I know you will cherish.