On the TED talk site, Sir Ken Robinson is introduced as a "Creativity expert who challenges the way we're educating our children. He champions a radical rethink of our school systems, to cultivate creativity and acknowledge multiple types of intelligence."
The passionate people behind ReThink Thinking were incredibly inspired and fortunate to have Sir Ken as the keynote speaker at their first Youth Summit in the fall of 2016. I was grateful to be in the room as he delivered his humorous and poignant presentation (the guy is a killer presenter – check out his TED talk – it's THE most watched one – ever).
In my role as a Memory Collector and Graphic Journalist, I was at the Youth Summit doing Sketchnotes. I've been doing this kind of visual note taking for years. I am thrilled that more people are using this way of capturing wisdom.
I'm looking forward to the next Summit coming up in April this year. I highly recommend any high school age youth to join this weekend of fun and inspiration. It is definitely tribe making at its best. Check out the Youth Summit and ReThink Thinking. For this year's event I prepared in the studio, a large wall graphic that will help guide the youth during their days together.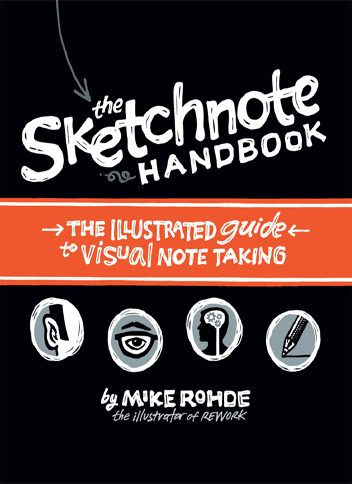 Sketchnotes are something that anyone can do. It really doesn't require you to have italic handwriting in your skill set. What matters is the ability to fully listen and collect only the bits of wisdom that resonate with you. Sir Ken had a lot more to say than what I wrote down but these were the messages that I really heard. Mike Rhode has written a couple of great books on how to do Sketchnotes. Give it a try and join my pen loving tribe!
Are you struggling with your work? We all know that with practice, things get easier. The absolute key is to keep doing it. I love this short video by Ira Glass, who is a master storyteller well known for the public radio show he created "This American Life". He inspires us all to keep doing the work, whatever that is. I think you'll enjoy this.
Do you have a presentation coming up? Or maybe a conference or important meeting that would benefit from Sketchnotes? Studies show visual aids improve memory and retention. I am ready to show up and start scribing. Give your audience something special, a way to remember the wisdom shared. Memory collecting comes in many forms, Sketchnotes are an effective, fun way for your audience to remember your message. Let me know if I can help.
With pen in hand,
Deborah