When Heather sat down to write down her memories of the 30 places she had lived, she put pen to paper. It is the natural way to improve memory. Her recollection of each place included:
Where it was – the exact address or close description.
How old she might have been – was she in school or working or being a mom?
Who else lived there too – parents, siblings, children, husbands.
A little memory of each specific time and place.
Her little summaries are what I call 'story nuggets'. By keeping to the essence, the task of collecting memories is not so daunting. We took her stories, created a visual framework and then added images of some places she had lived. This created a graphic that is visually engaging and fun to look at. Have you lived in many places? Start your list today. You won't regret it. 
There is a growing volume of information reinforcing the value of using pen and paper. This article talks about the psychological benefits of writing things down. I have certainly found this to be true for me. Benefits include:
It helps you think bigger.
You'll learn more.
You'll remember more.
You'll be more focused
It frees up mental RAM.
You'll stay sharper as you age (I'm really hopeful on this one).
I am a firm believer in the power of the pen. Are you? What is your favourite pen to use? I love the Staedtler pigment liner 0.3. For me it is the best, creating beautiful lines. I love the way it feels in my hand. I shared some of my favourite tools in this past blog post.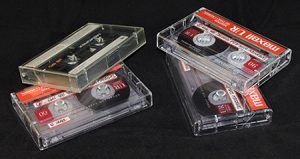 Now this is my kind of gold! I received these four cassettes recently – interviews done 25 years ago of grandparents who have now died. With these precious memories they've collected it will be easy to create a legacy story for the whole family to enjoy.
Do you have some cassettes or recorded stories tucked away somewhere. We can easily have them digitized and transcribed. With these in hand, it's a great start on creating a legacy. Add some photos and graphics and voilá you've got a visual life story.
Drop me a line and let's book a time to talk about your memory collecting needs. In the meantime, go grab your favourite pen and start writing out a list of all the places you've lived. How many are there? I'm going to do this and will share the answer in my next newsletter.