Where will life's river take you this year? This is the time many are considering a new years resolution. Are you looking forward to the surprises that will unfold? It certainly was a big surprise for me this past summer to find myself with shingles on my face and around my eye. The respite gave me time to reflect and to read. It was while resting in my healing tent that I came across this inspiring quote by John O'Donohue.
I think of our memories as a river. When I'm helping people share their stories, encouraging them, we are taking a trip along their memory river. The journey often includes side trips as if we are heading down tributaries. Once they have reached the end of a tributary, an enquiring question brings them back to the main flow and their memory river.
For people I've interviewed or who I've supported to do interviews with loved ones, the collecting of memories is a joyful experience. Sure, there are hard stories that get shared because life always includes a few wild whirlpools. I've witnessed people reliving their life experiences as they reflect on accomplishments, relationships, opportunities and connections. It can be fun to do!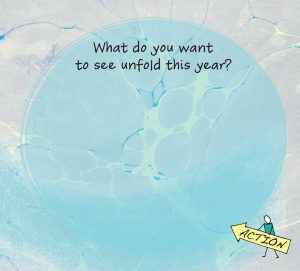 At the beginning of a new year many people think about goals they might have. Perhaps they set a new years resolution. So I ask you – What do you want to see unfold this year? Even though a river's surprises can be something to look forward to, there still needs to be some steering. I would love to know where your river might take you this year.
For me, there's a new beginning and an ending. After 30+ years of designing beautiful landscapes, I have decided to retire from the field of landscape architecture. I've had a fantastic run and am extremely proud of the work I've done, particularly in the area of therapeutic landscapes for people in health care facilities.
After four years of running two companies, I am excited to be able to fully focus on my Visual Life Stories passion. There are so many stories and memories to help people collect.
(An aside, did you know shingles can be triggered by stress? It seems running two businesses took a toll on me. And now a public service announcement – the new shingles vaccine, Shindrix is available and reported to be 90% effective. If you need any encouragement to get this, please contact me directly. I can share my long tale of shingles and it's complications which continue.)
Have you thought about collecting memories about your life or about the life of someone you care about? I can help you capture those stories as well as transform photographs, mementos and old stories into a legacy that your family will enjoy for generations. Together we can identify a memory collecting strategy that will suit your specific needs and budget. I'm excited for the coming year and will continue sharing tips and examples with you. And our updated website is coming soon! Thank you very much for following along. Huge gratitude to you for sharing my stories with your friends. A very happy 2018 to you and yours.