I love this time of year, not for the craziness that happens around anything retail but for the effort that people make to gather together, to break bread, raise a glass, give a hug, and share stories.
Around here we definitely count our blessings and celebrate often . On top of the fullness of the season, there are two birthdays in our family the week before Christmas. The opportunities to share time together are precious and fun!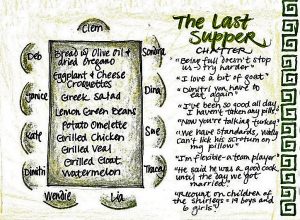 As a memory collector, I love reliving experiences which is why I started collected stories in the first place. Gathering friends and family around a table is a perfect opportunity to collect a little memory. I am always pondering – how to collect memories from a special feast.
Something cool I've done many times is use my napkin or a small piece of paper. Begin by drawing a simple rectangle. This will provide you with a "container" to write down who was there and what delightful food and drink you shared. It's easy to do and creates a fun little memory of the event.
If you want to redraw it later without food stains on the napkin, go for it. I suggest making a copy of your dinner table sketch and mailing it to the hosts as a thank you. I'm willing to bet that you will be invited back to the dinner table again and again.
As the season of giving surrounds us, here at Visual Life Stories, we are called upon to help. Are you struggling to find the perfect gift for someone in your life? Why not give them the gift of their legacy story.
We can create a customized gift certificate for you to give. Then over the following months, we will gather the stories and create a visual life story that will be a gift of a lifetime for your whole family.
Let us know if you need some help. Taking the time to collect the memories of someone precious to you is the ultimate gift, the gift of their life.