What path did you take on your business journey? Anyone who has started a business or chosen a career can almost certainly tell you a story about the journey that brought them to that place. Sometimes it's a clear trajectory, often it is anything but straightforward.
For Chris Petrovics it was searching for an alternative to pain medications for his back injury that lead him to floating. His initial experience was so transformative that he immediately wanted to build his own tank.
He launched into research about floating and tank development. It soon became clear to Chris and his wife Donna that this was an opportunity to build on. As often happens when one makes a commitment to something, the stars begin to align. Learning of the annual Float Conference in 2014 and being able to attend even though it started the next day was a huge turning point for Chris and Donna.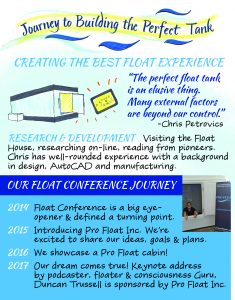 Jump ahead to the 2017 Float Conference where Pro Float Inc. was there as sponsor of the keynote speaker, Duncan Trussell. Truly they have arrived in this emerging industry. We were very pleased to help this growing business tell their unique story with visually intriguing marketing booklets and display banners that captured people's attention.
Roger Mehr is one of the business partners at Pro Float Inc, with a focus on sales and marketing. He reflected to us how engaged conference participants were. People would drop by their booth and pick up a booklet. The next day they would come back after having read the Pro Float story in their hotel room that night. The booklets weren't only a great takeaway, they lead to people returning for deeper conversations building relationships that will have lasting impacts.
In the business world, people can often be guarded about sharing their struggles. However when you share your own journey, you are being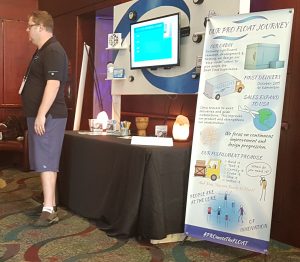 more vulnerable. This provides an opportunity for people to have insights into who you are and gives them a chance to share their own challenges, opening up to more personal conversations. It could be the beginning of a more meaningful relationship.
Our work with Pro Float Inc. began by working with large (3' x 6') sheets of paper on the wall capturing their stories. After a number of hours where the team shared their experiences, we had a visual representation of their journey and rich material to select from to include in the marketing booklets and on the banners.
These marketing materials are timeless as the history of a business journey doesn't change. Moving forward this information can be shared again and again even if the format of the presentation materials evolve. We have collected the important memories of their business journey.
I'm still looking forward to my first float experience, and from everything I have read, it will be very helpful on my journey to reduce stress. What does the journey you have taken in your career or business look like? Let's get together. I can help draw it out.