When Bob told me stories of his time in the Middle East, I felt like we were both experiencing the feeling of bearing witness. For me it was in my role as Memory Collector, listening for and encouraging his story. Bob's role as a Peace Keeper could certainly be defined as bearing witness. As Graphic Journalists, we created a visual expression of Bob's incredible experience that will inspire conversation and keep the memories alive.
According to the Merriam-Webster Dictionary, Bearing witness is defined as:
To show that something exists or is true.
To make a statement saying that one saw or knows something.
In legal terms Witness means:
To bear in mind.
To remember.
To be careful.
An article in Psychology Today titled The Power and Strength of Bearing Witness talks about how a witness assures us that our stories are heard, contained and transcend time. I also appreciated the idea that "Art is a wonderful avenue for us to bear witness."
In her article Kristi Pikiewicz Ph.D., asks "Is our reality different, less meaningful perhaps, if we have no one to bear witness? If no one empathically listens to the story of our life? It seems so."
We all have stories to share, to tell. At Visual Life Stories we pride ourselves on our sharp listening skills. When we are collecting memories, conducting interviews, we don't interject with our story, our anecdotes. We are listening, bearing witness to the story being told. It is about being fully present. You can find a few listening tips here.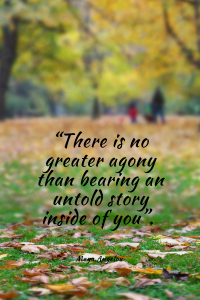 I do want to be clear that we are not psychologists, psychiatrists or counsellors at Visual Life Stories. We are keenly aware that not all stories are happy stories. There are often very painful stories. Seeking the help of a professional is encouraged if the story telling is challenging to undertake.
The Truth and Reconciliation Commission (TRC) provided a safe and supportive environment for the telling of the life changing, life wrenching stories of the residential school survivors. Such brave souls to open their hearts and mouths. I can't help but focus on the word Survivor.
Every time I have had an opportunity to bear witness at a First Nations gathering, I am struck by the resiliency of the First People's of Canada. Their cultural roots are strong and deeply rooted to this land. They are inspiring.
In his book The Power of Kindness, Piero Ferrucci states that "being present with someone else is a gift. To be there. To be totally available." To me that is bearing witness. According to Piero, it is also a key element of Mindfulness.
I've been doing plenty of reading as I recover from my recent health challenge (I did a journal page of the experience). Finding that Shingles are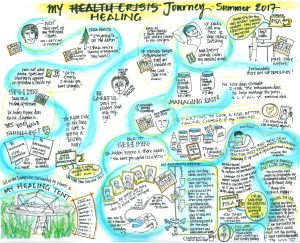 triggered by stress has emphasized the need for more mindfulness in my life. I am making meditation part of my daily routine. I find the app Calm to be a very useful tool on this journey. Thank you Arriana Huffington and her book Thrive for the final push in that direction.
Do you have a story to share? I know you do! Maybe you know someone who tells great stories and has perhaps uttered the desire to collect their memories? Send them our way, we would be honoured to listen and bear witness.
As Dr. Kristi concludes "a witness assures us that our stories are heard, contained and transcend time: for it can be said that one is never truly forgotten when one is shared and carried in the hearts of others."
When our stories are put together with visual images, magic happens. People love reading stories. Your story.