If you've seen my visual newsletter before, you have heard me talk about the Bullet Journal. For me, visual prompts are a powerful way to keep inspired and focused on my goals. Late last year I put this summary graphic together for a podcast I was doing with Mike Vardy about productivity. Using his suggestion for daily themes gives me a clear plan for my week. Organizing appointments, tasks and people to contact with them gives a flow to my work. While having my annual focus words in front of me keeps my intentions top of mind and part of my daily actions. I will let you know when the podcast comes out this spring.
In the meantime, with it being the beginning of a new year and everybody starting out fresh and ready to make changes, accomplish great things, etc etc, I thought it was a good time to share this graphic. If you're anything like me, the end of the year was a time to reflect on your progress in 2016 and set your goals for 2017. The Bullet Journal organizes these valuable insights and intentions into a step by step plan to achieving this year's goals. Let me know if you use a Bullet Journal. I'd love to see what your pages look like and how you are using and adapting this system. There are many, many examples on the Bullet Journal website.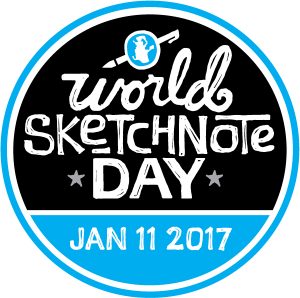 I've got a few ideas of things to add to your calendar for this month. One of them is today, January 11th. It is World Sketchnote Day. Who knew? A) that there was a day to celebrate this and B) what the heck is a sketchnote?
Check out my article on sketchnotes for examples and links to help you learn this fun tool to enhance your retention and collect your memories. Taking notes in a visual way is a thread flowing through my own journey for many years now. And perhaps like you, I didn't know my visual note taking was actually called something until a few years ago.
Hey, did you know that January 23rd is National Handwriting Day? Check out this article in the International Business Times celebrating the benefits of putting a pen in your hand. The article offers suggestions for celebrating the joys of writing. My favourite is "Start a diary". I keep a few different journals (bullet, travel, art classes, etc). As you can imagine they are full of doodles. Taking the time to record observations I have on a regular basis is a joyful experience for me and helps me remember what I've seen and learned. Will you try one of their suggestions?
I fear that handwriting is a dying art in our digital age and yet I am also encouraged by the number of cool lettering styles I see around. Putting pen to paper is a unique expression of who you are. If you like your own handwriting you could always turn it into your personal digital font with a great tool called Your Font. I've made three fonts so far and have plans to make a couple more this year.
The last date to add to your calendar is SOHO (Small Office Home Office) happening here in Victoria on Friday, January 27th. This one day conference was super inspiring last year. I featured the sketchnote of Mandy Farmer's keynote address about innovation in a visual newsletter last year. Looking at it now, her message still rings true with a practical approach to my new business goals.  I'm excited to attend again.
Thanks for making it all the way to the end of this newsletter. I would LOVE to hear from you with any comments or ideas about how I can help you tell your stories in a visual way. Also if you know of anyone who might enjoy this newsletter, I would be grateful if you shared this with them and encourage them to sign up to receive my monthly musings in their own in-box. 'Til next time.