In my last newsletter I wrote about my addiction to email and my device, (it seems I'm not alone). This time I'm talking about another one of my obsessions, collecting memories.
I know there are people who share this obsession as well. You've seen them. Maybe you are one of them taking photos of places you visit, of delicious meals put on the table, important people or pivotal moments in your life.
Where do all these memories go? I know the sentiment that "a picture is worth a thousand words" but not every photo is a masterpiece and yet all photos tell some story.  
Digital versions of photos are filling our phones and computers but they are often missing the juicy or contextual details. And when was the last time you printed a photograph? It's fun to show people photos on our phones but that little rectangle just doesn't generate the same feeling of savouring a printed image.
So where am I going with all this? At Visual Life Stories we love the printed page. Combining photographs with stories, sketches and maps, we create something special for people to sit down and spend time looking over, sharing with others. You can check out the variety of ways we show the love with paper.
The image above is from the Lozeron family who are passionate about collecting their memories. This past summer they gathered as they do every four years sharing stories from back in the day. There was great excitement this year when a poster we created was shared. It was designed to be printed both as a poster and as a two sided booklet.  
I'm not sure how my obsession with memory collecting started. I suspect it was my good fortune of being able to travel that began me down the path with travel journals.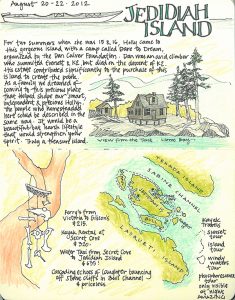 The obsession then expanded to include conferences and meetings. There were so many incredible presentations that I just didn't want to forget, experiences and information that I wanted to reflect back on. Who knew that my scribbles and doodles were called sketchnotes.
Having children certainly reinforced my interest in memory collecting and I have many years of calendar/journals telling the story of our family life. How do you collect your memories?
Sometimes you need a little nudge to get started. I've created a free little booklet you can download called  17 Magic Questions  I'd love to know what you think of it and I really do want to know, "How do you collect your memories?" Your answer to that question is key to something I'm working on now.