Last January I spent a day at SOHO, not the New York suburb, but a conference day here in Victoria focused on Small and Home Office businesses. It was the first year for SOHO but definitely not the last. I've already got my ticket for this year. Do you?
Marc Stoiber opened the conference with a story about a cat hanging off the front of an old van. It was a funny image to imagine and to draw. Clearly cats are not my forte but that's not the point. The point is that he told a story I wanted to remember. So instead of worrying about whether I could draw a good cat, I just kept doodling.
Sketchnotes are not works of art. They are a tool to help you collect the memories that you've heard or been exposed to. Traditional note taking needs to evolve and sketchnotes or doodling as some people call it are making inroads in mainstream society.
Rachel Smith shares her insights on Visual Storytelling and makes a scientific case for doodling while taking notes. She cites a study done at the University of Waterloo where people who drew simple sketches were better able to remember a list of words than folks who just wrote them down. Quality drawings were not involved as these were done in 4 seconds.
A few key tools and tips to do for creating sketchnotes: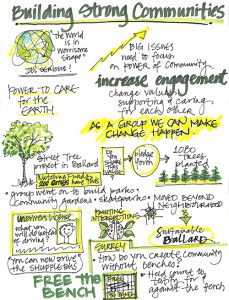 Journal with blank pages or you can use blank paper sheets. I like to collect these visual stories together, kind of like collecting memories, so I usually use a journal.
Turn the page so it's landscape, giving you more width to doodle in.
Black fine tip pen – My favourite is the 0.3 Staedtler pigment liner – there is nothing like a consistent black line. This width is great for lettering and sketching.
Coloured fine or brush tip pens. I like blue or grey and mustard yellow.
Use these coloured pens for titles or things you want to highlight.
Pair simple sketches with words that make sense to you. Ignore your inner critic.
I go over my notes after the meeting and review adding the yellow highlights.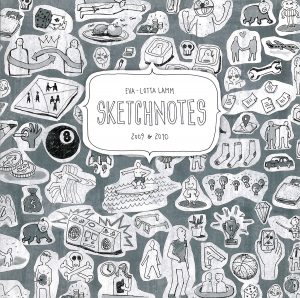 Eva Lotta-Lamm was the first person I knew of doing Sketchnotes. It was through her that I realized my notes weren't just crazy doodles. She has published a number of books of her sketchnotes. This is the first one.
I have shared a couple of sketchnotes stories before in my blog posts. If you're interested in reading more about this, read my posts SOHO last year and creating a template for sketchnotes.
This week is back to school for students of all ages. Taking visual notes can help them stay focused and remember the large amounts of information coming their way. If you know a student who might be a closet doodler or who could use some inspiration, please share this blog with them.
If you've got a meeting or presentation coming up that you want people to remember, let's talk.