Summer is often that time of year when family reunions happen. It's a chance to see far-flung relatives, to live and revive traditions and to share stories from the past keeping your ancestry alive. Every family has a story and for many families their story includes immigration and challenges from settling in a new land. This story is a source of great family pride.
This coming weekend the Lozeron clan will gather as they have every four years for generations. My client is one of the clan and is very excited to share this visual life story of her family's pioneering journey from Europe to Western Canada. Have a look at the map, you can see that a good portion of that journey from the USA to Alberta was done one step at a time. What an incredible history to share with the new generations.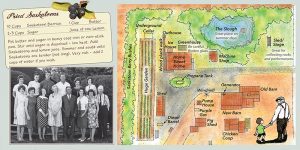 Using a rough sketch provided and an aerial photo, I created this colourful map of the farm showing where the key buildings and farming action took place. My background as a Landscape Architect helps me interpret your rough sketches and present your stories in powerful graphic detail.
Fried Saskatoons sounds delicious and is a treasured family recipe full of memories from generations on the farm. Incorporating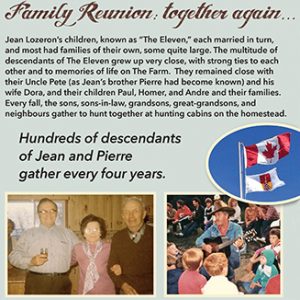 elements that are unique to your family reinforces a very personal story, and of course that includes photographs. Often old photos need a delicate touch (aka Photoshop) to bring out the best of them, which is all part of the attention to detail our professional team provides.
This full visual life story is a 24 x 36 poster. We designed the poster so it could be divided horizontally and then printed on two sides as a smaller folded booklet. This way family members can have a personal copy of their family history.
Music is a big part of this family reunion gathering where the flag will be raised along with a few cold beverages. There will be games played and stories shared from elders, along with traditions that reinforce the family bonds.
How does your family collect and preserve their memories? I'd love to help you create a visual life story that captures the essence of the journey of your family or perhaps one person in particular.
I love this time of year for the slow food that gets created. Enjoy your summer, wherever you are gathering.