Have you ever been in nature and thought, "this is so beautiful, I don't want to forget it". I certainly had that experience last summer on Haida Gwaii where we travelled in the footsteps of Emily Carr. There were so many images that I wanted to capture and not just with my camera.
Misty islands, misty mountains, foggy hills, whenever there is a landscape in your view with layers, tone and shape, you can use this step by step guide to create a watercolour resemblance of it. I summarized the instructions that Alison Watt shared with us over my painting (yup, hiding some of my smudgy bits).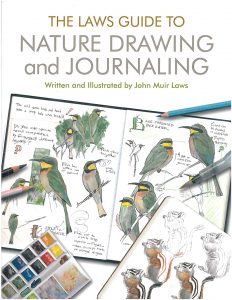 I recently picked up another book about Nature Journaling by John Muir Law and it is full of step-by-step instructions to draw amphibians, flowers, mammals and birds. The bird sketch is brilliant; showing how the egg shape we can relate to fits so easily into the body of the bird.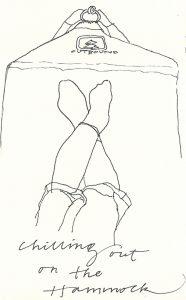 Drawing does take time, I've definitely noticed that but what you gain from being still and paying attention, is so worth it. Taking photographs is a wonderful way to remember your experiences but when you take the time to put a pen or pencil into your hand and really look, you have an experience that is much deeper and more visceral. You connect into a different part of your brain and memory. Read more about this here.
The hammock is out and the sun is warm. Hope you're taking time to put your feet up and chill out – outside in the great outdoors.
Do you or someone you know need some help with journaling or sketching skills? I love to share this passion. Small group classes are available here in the studio. Gather a couple of friends and come on over.