For the last five years I have received a calendar created by Blue Heron Art for Christmas. The message of celebrating community was clear and I needed to meet this woman who is also passionate about telling visual stories. Suzanne Heron collects stories and images about places people love. Her calendars are filled with beautiful images from our little wedge of the world.
One of the reasons I wanted to connect with Suzanne was that while I loved her calendars I found her main text font hard to read. I didn't feel like it did justice to her wonderful artwork. As a smart entrepreneur she was open to new ideas. My suggestion of using my font as her text percolated over the winter and this year I'm thrilled to see it on all her 2017 calendars. If you want to order calendars from Suzanne that are customized for you or your business, please contact her soon. They make great gifts… just saying.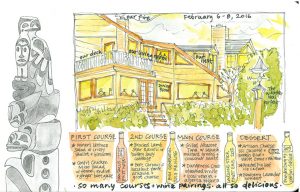 You will see on the calendar page image that Suzanne always includes a recipe from a restaurant. She has taken my suggestion to check out Wild Mountain a fantastic little restaurant in Sooke that we dined at while away celebrating our 25th anniversary. I didn't create a visual story about our dinner there but did do one for our dinner at the Sooke Harbour House. Yes, I love food. This is a super easy way of creating a record of a memorable meal. During the meal I took quick photos of the wine bottles and the menu so I could remember them the next day – there was quite a bit of wine and fortunately our room wasn't far.
Our wedding, so many years ago was held in East Sooke Park. This wild and wonderful west coast park is full of trails and beaches to explore. It's that time of year to get outside. Grab your walking shoes, camera, water bottle, and sketchbook. Go have fun!
If you're interested in creating your own font, check this out. Are you working on a project that could use some cool fonts? Let's talk.