This sketchnote is from the final keynote address at the inaugural SOHO Victoria – Small Office Home Office conference held January 21, 2016. In true entrepreneurial style, Mandy Farmer from Accent Inns and Hotel Zed wrapped up the day, talking about Innovation.
Attending conferences, lectures or meetings is an excellent way to stay current and engaged in this big world of ours. When you listen acutely the opportunity to take sketchnotes is presented. You too can learn to create visual notes and improve your retention of the information presented.
And guess what, you're much more likely to go back and read those notes. Either way I feel like my neuroplasticity is getting a solid workout. I love that.
The focus at SOHO was on local talent. Victoria is blessed to have talented people in abundance – I think most towns have great people to draw on. Too often we think we need to look beyond our borders for expertise. Buy local, think local, be local, wherever you are. Think Local First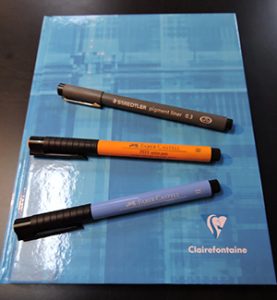 Key ingredients needed to do sketch notes:
Journal with blank pages – mine is a Claire Fontaine but there are oodles of journals out there. I find that if the paper is a bit coated, the colours I use are a bit brighter. Blank pages is critical – lines constrict you.
Black fine tip pen – My favourite is the 0.3 Staedtler pigment liner – there is nothing like a consistent black line. This width is great for lettering and sketching.
Coloured felt

tip pens

(one dark, one brighter) – Faber-Castell Pitt artist brush pens are my pens of choice. Usually a blue or grey for titles and then mustard yellow for highlights. Any coloured felt tip will do, just not too thick. You need to write titles and great quotes with it. Practice writing titles before you go to your next event. Get a feel for how much space you need.
One final ingredient – you have to be pretty focused. In reality you aren't absorbing the information as much as you are deflecting it onto the paper. You need to write/draw and listen at the same time. Unfortunately people don't stop talking so you can catch up.
Oh yeah and absolutely forget about writing down everything the person says. Relax. Capture the essence. Focus on your key takeaways. Always have a water bottle nearby to keep you hydrated (your brain is getting a workout).
Mike Rohde is a pioneer in the field of sketchnotes. I heard about him a few years ago and it was pretty cool to have a label for the visual notes I had been taking for years. Mike is writing a new book and you can follow him on the journey here. In Mike's last book, I had a couple of my travel journal pages included. Check it out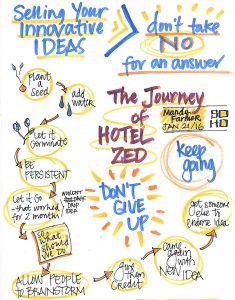 Innovation was the focus of the journey for Hotel Zed. They suggest stepping forward and backward and at times looking through a different lens at the experiences shared by many to find new ideas.
The most innovative thing I've heard of this week – Ghana's Eco-Friendly Bamboo Bikes. Check this out! Now that's innovation and a brilliant solution.
My own visual journey has had many twists and turns but still thinking like Captain Chris Hadfield, it has been a lot of fun. All of us have a journey called life.
Memory Collector at your service. I would LOVE to help you communicate your business message, create a personal legacy for future generations or capture your travel story. Let's talk.
Looking forward,
Deborah LeFrank