It was an amazing year. It was a helluva year. The quote above reflects both of these feelings in me. The background map is  Paris, the city of light that became ground zero for despair and hope. The horrific events of November 13th were contrasted with the positive global coming together on December 12th at the Climate Change Summit.
So here we are on the eve of a new year, of 2016. Happy New Year!
The beginning of a new year for me often generates a whole wrath of emotions. Starting with "wow, this past year went by fast" to remembering all the fun things done and work accomplished to making plans and writing a new script for the coming year.
My hopes and dreams extend to my family, my community, my country, our planet.  I can honestly say that for the first time in a number of years I am feeling very hopeful for my country and planet.  I think we are on the verge of many great things and I know others who share that optimism.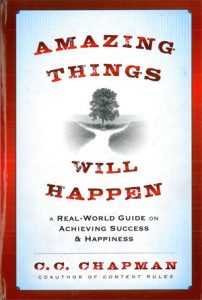 A couple of years ago I was working as a graphic recorder at the popular Social Media Camp held annually here in Victoria. One of the keynote speakers was CC Chapman an inspiring human who has followed his own convoluted and successful journey. CC has written a few good books and this is one of them.  This week I will reread the compact book and do the three word exercise.
It starts with writing down all the things you want to accomplish in the next year. There is no wrong answers so a free flowing brain is encouraged. Next step is to cluster the ideas into themes.  From there it's time to find key words that embody the ideas.  The goal is to pick three key words that are your focus for the coming year.  Last year for me was Strengthen, Service, Strategies.  I'll let you know what the result is from this year's review and efforts. Sharing is part of the doing. and this exercise is definitely worth doing.
I'm pretty passionate about collecting memories and had a great time this past summer with friends dreaming up
and concocting delicious cocktails that were sure to make you delirious. As the chemistry between friends mixed, so did the ideas. It was fun to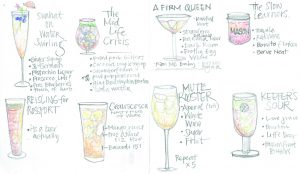 sketch this memory.
With New Years Eve here, it might be a good time to try a few of these or create some of your own. Let me know what you think of ours and please do share yours.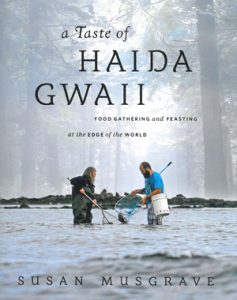 A highlight from this past year was collecting memories of exceptional travel experience for guests with Maple Leaf Adventure. As they travelled on the Swell tugboat through Haida Gwaii and the Great Bear Rainforest the fabulous crew were taking notes and photographs.
The information was passed onto us at Visual Life Stories to create the customized booklets that were sent out a couple of weeks later to the very delighted guests.
I had the opportunity to explore Haida Gwaii this past summer.  This new cookbook by the accomplished poet and author Susan Musgrave increases my excitement for more exploration of this culturally wild archipelago.
Another highlight from this year was our work with Thrifty Foods as they strive to engage with their staff.  This was the third year we have helped them hone their message into a visual storyboard that captures the attention of this very busy community.
The backbone of Visual Life Stories are the personal stories, people opening their hearts and memories to share with future generations. The journey of an immigrant to Canada is challenging and rewarding and it was an honour to help capture this story.  A path to love across the planet connecting two people through the love of rowing culminated in a wedding with guests from around the globe.
I'm very excited about 2016 and all the possibilities for growth on Planet Earth and in my studio.  I would LOVE to help you visually communicate – your business message, your travel story or a personal story, creating a legacy.  Let's talk.  
Happy New Year to You and Yours.  May the force be with you. 🙂