Which direction do you want to go? That's one of life's challenging questions for sure. You're standing at the crossroads of a decision. With so many pathways to choose from, having a visual map can help you sort out where the heck you're going.
Parents and junior athletes at the Victoria City Rowing Club can look at a big chart on the wall to see where they might fit in and where they go next on their athletic journey. It helps to stimulate discussion which for most of us is part of the process for making decisions. Having a visual map means everyone has the same information at the start.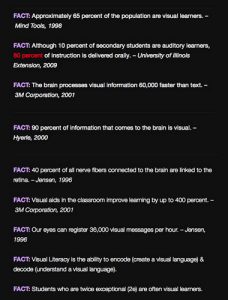 The majority of people are visual thinkers and learners, about 65% of the population. My guess is that you might be too, perhaps that's why you are attracted to this newsletter.
When visuals are incorporated into messages, people remember the information. Comprehension is improved. Why is this so? Imagine that 40 percent of all nerve fibers connected to the brain are linked to the retina. That means more areas of the brain are working together to support your understanding of the information you are being presented.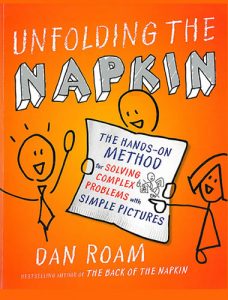 Dan Roam loves paper napkins and he has built his reputation on them. He has solved all kinds of complex problems using visual tools – a pen and paper. And guess what – you have those tools too. Check out this great book for ideas about how to figure things out in your life, business or community.
Visual tools are powerful for team communication as well. For the past three years we've been helping Thrifty Foods communicate their story to their staff. The challenge was getting the message read. Knowing the brain processes visual information 60,000 times faster than text has made all the difference. Check out the staff communication booklet here.
Is there a visual message you have seen that you think is super effective? I'd love to know about it. Have you got a message that you are trying to convey? Let's talk.
And thank you for sharing this blog with anyone else you might know who likes to think visually.