Do you love to travel? Did you travel somewhere this summer that you want to remember – an adventure to re-live during the cold winter months?
I'm pretty crazy about travel – I love to do it – going places I've never been, meeting people doing amazing things, seeing things I've read about or seen images of – experiencing life fully.
Life is pretty darn precious and you just never know what's around the corner.
I learned that lesson the hard way when I was 14 and got in a big bad car crash that took three souls away including my best friend. It was definitely a life changer for me.
I love to get out and see life full on. My sailing trip to Haida Gwaii (formerly known as the Queen Charlotte Islands) with Maple Leaf Adventures was transformative. We were following in the footsteps of Emily Carr going to the first nations villages that she had visited and sketched. And took time to sketch there!
Our naturalist on board, accomplished artist Alison Watt gave us lessons in making friends with watercolour paints (FUN) and we sketched plein aire (yup, in the bright sunshine). That is a great summertime thing to do; get outside, to a café, a park, a beach and pull out your sketchbook.
The image at the top is from a two-sided accordion booklet I created to help me and my travel buddies remember what an amazing experience we had. Incorporating photos, maps and sketches with story nuggets this booklet sits proudly open on my desk.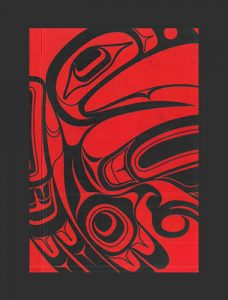 For me, collecting travel memories starts with a small notebook that doesn't feel intimidating.
I love the cover art of this little book by Haida artist Ernest Swanson– it's only 4" x 6" and so easily fits into my pocket, backpack or purse.
While listening to someone tell stories, or if I see something I don't want to forget, I take sketch notes easily and discreetly.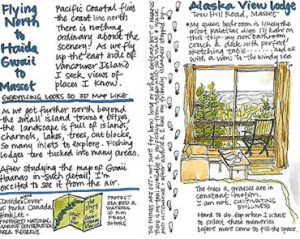 On this page I've captured my arrival day on Haida Gwaii (before the tour started). This sketch is part of my ongoing series of "views from the bed". I have many photos (and sometimes sketches) with this theme – sometimes it's a view out the tent opening or recently from a train bunk. It's a fun theme – try it!
I often write notes about my walkabouts and frame them with little footprints – a super easy graphic element that conveys the essence of the story nearby. You can use little feet to break a page up into small spaces for stories if you are walking around a city and see cool things you don't want to forget.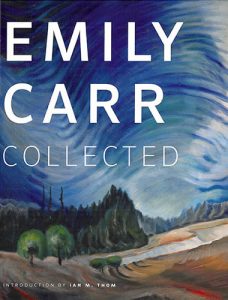 Emily certainly knew how to collect memories of her travels as we see from her vast collection of paintings.
She was a brave, inspiring woman and a very accomplished artist. She had a vision and passion to capture the first nations village totems and travelled to incredibly remote places beginning in the early 1900's. She is someone worth knowing about.
So… did you go somewhere amazing this year? How are you going to collect those memories so you can relive them again?
I can help. I've got a few different methods / packages to help people collect their travel memories. Send me a note and let's talk about it. https://www.visuallifestories.com/contact-us/
Bon voyage,
Deborah