Living in Victoria, BC on southern Vancouver Island surrounded by the cool waters of the Pacific Ocean, the opportunities for adventure travel are never far away.
I first heard about Maple Leaf Adventures from my colleague Briony Penn who has been one of their on-board naturalists for many years.  The beautiful watercolour sketches on the adventure travel map are Briony's and some were done while on ship. Small group excursions on big wooden ships create an ideal environment for wildlife sightings that shift your heart and soul into a new gear.  You are so alive.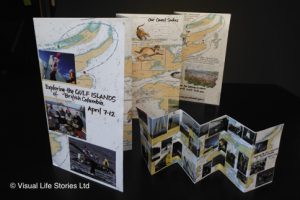 Since 1986, Maple Leaf Adventures has explored the coast of BC and Alaska giving people a trip of a lifetime. This year they have launched a new ship called the Swell. In honour of the launch Visual Life Stories is working with Maple Leaf Adventures to create customized Visual Travel Stories for a select number of tours.
The Adventure Travel Maps accurately identify for guests the journey they have travelled while highlighting the amazing experiences had along the way.  Stunning photographs taken while on tour are artistically blended with beautiful illustrations, charts and captivating descriptions. The result is a unique customized travel map that is also an accordion booklet to treasure and share.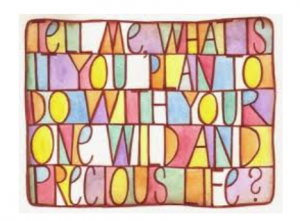 I love spring. Mother nature showing herself in full glory with new blooms every week. It's an exciting time of year, a time for scheming and planning adventures in anticipation of warmer weather. And why not! Life is about living and getting out of routines and expanding our view of the world. Mary Oliver is a very talented poet who inspires many people to look closer at themselves and the precious world around them – from the poem The Summer Day. Love this graphic from The Best Brain Possible website.
Want to learn how to create your very own precious Visual Travel Story?  Join me June 27-28 at the Metchosin International Summer School of the Arts (MISSA).  We will spend a weekend creating a travel journal from an trip you've already taken, learning tips and tricks to create a unique momento of your own.  And for your next adventure you will be ready!  Know anyone else who loves to travel? Bring a friend. All classes are at Pearson College an incredibly beautiful creative place.
If you have any questions, ideas or stories to share, please don't hesitate to contact me – I would love to chat.  I especially love to talk about collecting travel memories.  Where are you going?  Do you lead tours to cool places?  Let's talk.