How many different homes have you celebrated the holidays in?
For Heather who has lived in 30 different homes over the course of her life so far, the possibilities to contemplate are pretty significant.
Over the course of our lives many of us move around and for some, the moving part can be so often that you never recycle your boxes.  I suspect the amount of boxes labelled "decorations" that Heather had during her gypsy years, would be significantly less than what we hauled out of our attic this year.
Over your personal and varied journey, how many different places have you lived ? I was surprised when I counted seventeen different places that I have lived. Each place where I laid my head holds a story – who else was living under the same roof and what I was up to during that time frame.
Gathering together the various places you have lived over the years is an easy way to begin collecting your memories into a visual story.
Start by making a list of all the places you have lived. Don't worry about the specific address. Add any information you have. The dates when you were there. Who else lived there?  Were you going to school or working? Was there an outhouse? Compelling stories are rich in detail – recall one thing about each place that made it memorable.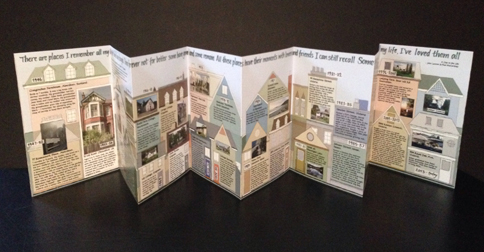 We created a template for this Visual Life Story which gives us the opportunity to personalize it with your information.
Contact us to talk about creating a visual story that features all the places you or a loved one has lived in.
As Graphic Journalists, we are passionate about helping people tell their stories, whether it is a business or personal story, we can help you create a story people will love to see creating a legacy for now and future generations.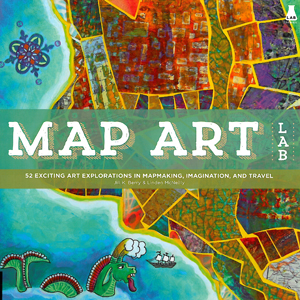 Looking for a last minute gift for a map lover in your family?  I discovered this fantastic book called Map Art by Jill Berry & Linden McNeilly. It's filled with great tips, tricks and examples of how and what maps can be. As a landscape architect my love of maps is deep.  I love incorporating them into my visual stories so look out, I'm inspired!
Are you interested in creating your own Visual Life Story? Join us here in Victoria at Panorama Recreation Centre for a six week course called Create Your Own Visual Life Story, starting in late January.
Happy Holidays to you and yours.  This has been an amazing year, finally launching the business I've been busy cooking for the last 5+ years.  See you in 2015!
Pen in hand & heart,
Deborah