I love to travel and visiting galleries and museums is often a highlight.  But here is the dilemma, when you've only got a few hours to absorb it all, how do you appreciate and remember the culture that you've been exposed to?  Especially when most places won't let you take any photos.  This is where visual journalling is key to helping you remember those amazing images and the emotional connections.
Our visit to the Kröller Müller Museum was definitely a highlight of our trip to Holland.  Set in a 5,000 acre park, three hours from Amsterdam, it is an absolute jewel in the art world. A must see for art lovers.  The sculpture garden is expansive and deserving of the time we spent exploring.  Once inside we wandered from room to room where paintings of masters from the artworld were hanging.  It was a bit overwhelming especially because our available time was slowly shrinking.  But I had to sit and drink in the warmth of the colours in the Van Gogh room especially with my long time favourite the 'Terrace of a Cafe at night – Place du Forum'.
I didn't want to use my precious museum time sketching and quite frankly sketching in a public place surrounded by art works of such a high quality, is a bit intimidating. My little journal was the perfect tool that day as I could scribble down the names of the artists we had seen.   A trip to the gift shop provided a few more tools for my journalling adventure with cards purchased of Van Gogh's paintings.  I used a postcard as a guide in my attempt to recreate his masterpiece.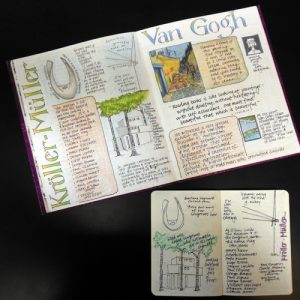 Over the years, I've experimented with various techniques for travel journalling.  It's fun to try different ways of collecting memories and I'm always excited to share my strategies.
Starting on October 29, for five weeks on Wednesday evenings I will be helping other passionate travellers visually document their stories.
Coast Collective is a great venue for creative exploration and we together we will create a travel journal. The intent is to have people bring photos, any notes and travel ephemera that they gathered from a previous trip.
By creating a travel journal it will create an opportunity for you to relive the experience. With the tips and techniques learned, you will be ready to collect your memories on your next adventure.  Registration at Coast Collective.
Travel changes us.  It exposes us to places, people and experiences that expand our view of the world.  Let us help you document and preserve your travel memories in a visual story so you can share the adventure and relive it over and over again.  
As Van Gogh so wisely said "What would life be if we had no courage to attempt anything".