Sport and travel often go hand in hand, creating great visual life story material. It's fun to train and compete in your own backyard but a change of scenery can help motivate the training program.  Bigger competition, expanding your horizons, whatever the reason, it is an experience to remember.
The best possible scenario when combining sport and travel is adding on "being a tourist".  A fun reward for all your hard work.  Getting beyond the race course, the golf course, ball diamond, pool, whatever ….get out and explore.
The Head of the Charles Regatta is every rowers favourite head race course.  Starting ten seconds apart the boats race for 4.8km (3 miles) along the Charles River passing under seven historic bridges and rowing past legendary boathouses such as Harvard and Cambridge.  The bridges and shores are lined with cheering fans.  And the rowers?  They range in age from high school to university to elite Olympian to 80 year old masters. It's quite the spectacle. Hard work and brilliant fun.  This year marks the 50th anniverary of this legendary race.
Collecting memories involves paying attention to the details.  Grabbing a map so you can recreate the "where you are". Getting a brochure with the event logo so you can cut & paste or copy it into your visual story. Keeping track of  results of your efforts and the competition, especially important if you participate regularly. Taking photographs of the venue, the start line, the finish line, the 18th hole, the concessions, whatever catches your eye.  Be sure to have your camera in your gear bag so you can take photos of anything that helps tell your story.
The visual life story created for Brenda Taylor included many travel locations on her journey from novice university rower to double gold medal Olympian.  The process to create Brenda's story included interviews where questions were asked and sketchnotes were taken as she shared her story.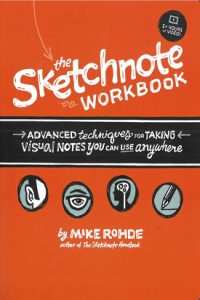 What are Sketchnotes?  It's a way of taking notes that incorporate visual elements.  Mike Rohde is a pioneer in this field and has written a couple of great books.
His latest book the Sketchnote Workbook is an excellent follow up to the Sketchnote Handbook.      I was thrilled when Mike choose two of my journal pages to put in the workbook including the Head of the Charles visual story.
The foundation of every Visual Life Story is the combination of words and images to tell a story.  Developing skills in Visual Journalling and Sketchnoting help bring stories to life.  My autumn workshop at Coast Collective will focus on developing skills to help you tell your travel stories. Do they have a sport connection?
Why not use a journal to track your sports journey – the wins, the losses, the training, what the coach says, where you want to go, where you've been.  Brenda Taylor kept detailed journals of her path to the Olympics.  Your path may not lead to gold medals but it will definitely be memorable and your grandchildren will be amazed at your prowess.
As Graphic Journalists, we can help YOU tell your story, a story people will love to see. Life is a journey. Which stories do you want to remember and share?