Has this happened to you? It's taken many emails and days to organize a gathering of the clan, be it family or friends.   And now…here you are sitting around a table with these good people enjoying stimulating conversation and a delicious meal. As the hours stretch on you think "I don't want this evening to end".
At this point you might take a few photos or perhaps if you're a foodie, before you lifted your fork you captured an image of your meal. We want to remember. We want to collect our memories so we can relive them again.
I definitely had that feeling while enjoying a last supper together on Naxos, a precious Greek island. As the ten Shirley Valentine's and their trusty guide Dimitri savoured a succulent feast, the conversation evolved into hilarity.  I wanted to remember this night.
Keeping a little journal in your bag for doodles is a great way of capturing these moments without worrying about how it looks on the page.  You can take time later to layout the page. Besides, you've likely had wine – spelling mistakes are not a worry when you're using a "workbook" journal.
Drawing the table shape gives you a quick frame to contain and list the menu. The key memory to collect is – who was in the room – who was sitting around this table this day. The little scoop shapes for chairs makes it easy to simulate a table seating plan. You can add the names inside or outside the chair shapes.
If you want to capture snippets of the conversation, it works well if you have your little journal on your lap, tucked under the table. People can get self conscious. Besides, it's fun to be discreet and when you share the visual story later, people will be amazed at the memories you collected.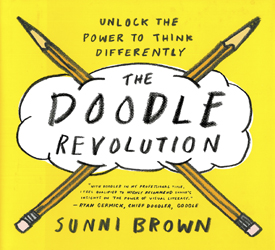 If anyone at the table asks what you're doing, just telling them you are doodling. There is a Doodle Revolution taking place across the planet. If you want some inspiration, check out this great book by Sunni Brown.
I'm excited to share many more tips and techniques at my Focus on Travel workshop coming up this fall at Coast Collective.  First time offering a five week course, should be fun!  https://www.coastcollective.ca/art-class.php?id=78
Collecting memories gives us a chance to relive our life experiences and lift our spirits.  If you do collect a dinner party memory be sure to copy it and send it to the everyone at the table so they can enjoy the meal memory again!
As Grant Leier wrote on a beautiful painting – Count Your Blessings, Celebrate Often.