Life is about journeys and about the stories we collect along the way.  My own life map, my life journey, has led me here to the beginning of a new business venture – a new adventure.
Visual Life Stories is a company but quite frankly it's my life.  I've been collecting memories and organizing them into a wide variety of formats for a long, long time. Mostly journals, visual stories, calendars, maps, doodles, large charts, sketchnotes, etc.  Blank paper of any size is vulnerable to my pens.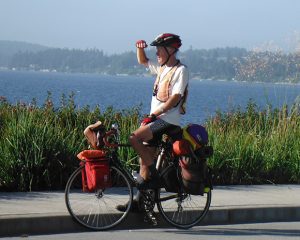 My dear friend Neil has embarked on a journey this month. Cycling from the west coast to the east coast of Canada, a 6,000 km journey from Victoria to Halifax! Definitely "bucket list" material.
Maps were poured over visualizing his route as plans were made for the epic adventure.  As he looks east at the start of his journey, my thoughts focus on how the story will be recorded and remembered. I'm gathering ideas and thinking about the information and images needed to create a visual life story to celebrate this milestone.
Who doesn't love summer? A time that often includes opportunities to get away from the regular chores of life, a time to travel.  Recording your experiences and stories while travelling is fun and easy, especially if you keep it simple.  All you need is a black felt tip pen, a slightly thicker colourful felt pen, pencil and eraser, few pencil crayons, and a journal.  I encourage you to find a small blank page journal and get outside.
Treat yourself to a journal with good paper.  If you're taking the time to collect memories, you want the paper to be as good as the story! Don't worry about writing long sentences, just get the essence of what's going on. A simple tip. Draw a rectangle in pencil, fill it with words.  Once you're done writing you can ink in the box outline.  A little coloured pencil around the edges and you're on your way.  Don't forget to leave room for a title.
If pick up a brochure or map, look at the title and copy the lettering style.  Stop for coffee.  Draw your cup and then write something inside the shape that the cup is, like maybe who you are with or where you are. Describe what you can see from where you're sitting. Don't be shy. Just pull out your little book and start drawing little containers and filling them in with stories.  It's fun.
I love adding memories to my life story.  When I create my visual life stories it gives me a chance to relive those sweet memories, whenever I want. The visual story shared here is from a great little cycling trip we took a few years ago. I wonder where how big that turtle is now?
I look forward to sharing more visual stories and memory collecting tips with you along this new journey.